The ANAMED Ancient Languages of Anatolia Summer Program is invite you to a lecture by Dr. Nancy Highcock. Subjekt: The Construction of Identities Through Commemorative Objects in the Ancient Near East
The Construction of Identities Through Commemorative Objects in the Ancient Near East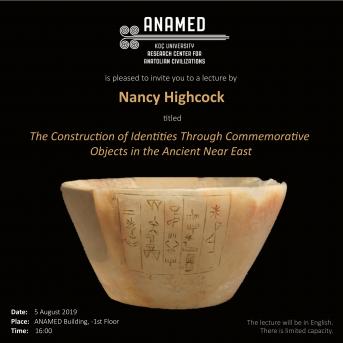 Date: 5 August 2019, Monday
Time: 16:00
Place: ANAMED - 1st Floor
The "Memories for Life" project currently underway at Uppsala and Cambridge universities is analyzing the dedicatory practices of private individuals from the 3rd -1st millennia in ancient Mesopotamia in order to better understand how people constructed their identities through religious practice from a grassroots perspective. The commission and dedication of commemorative objects sought to establish an ongoing dialogue between the human individual and the deity and the inscription (if present), material, object type, and dedication context all worked together to emphasize the personal aspect of these relationships and crystallised the individual's presence across in both the present and future. This seminar will present a case-study on how long-distance traders from Old Assyrian period Aššur balanced their professional identity as merchants with their civic identity as citizens of Aššur--both negotiating and maintaining various aspects of their collective character as a community working and living abroad in Anatolia. Religious belief and practice were an integral part of this collective identity and the commemorative and dedicatory practices of the Old Assyrian merchants will be contextualized within a diachronic and cross-regional study on the religious lives of both merchants and other identity categories in the ancient Near East.
Who is Nancy Highcock?
Nancy Highcock is a Postdoctoral Research Associate on the project "Memories for Life: Materiality and Memory of Ancient Near Eastern inscribed private objects", a 3-year collaborative project funded by the Swedish Research Council (PI Jakob Andersson, Uppsala, co-PI Christina Tsouparopoulou, Cambridge), which aims to identify and highlight the personal perspective, materiality and agency in inscribed objects commissioned by private individuals in the Ancient Near East throughout three millennia. She is currently working on her first book Community Across Distance, the Forging of Identity Between Aššur and Kaneš which highlights the impact that high levels of mobility have on the construction and maintenance of collective identity and action in pastoralist and mercantile communities of the Middle Bronze Age. She is especially interested in how aspects of identity can become simultaneously fixed and malleable in multicultural trading communities and how this phenomenon manifests in the archaeological record. She is currently part of projects tracing changes in the social world of professional merchants in northern Mesopotamia and Anatolia during the Late Bronze Age to Iron Age transition and re-defining what is meant by "popular religion" with regards to Mesopotamian material culture. In addition, she is the director of the lower town excavations at the site of Niğde-Kınık Höyük in southern Cappadocia, Turkey where she is investigating the Iron Age and Bronze Age occupation of domestic contexts.
*The lecture will be in English.